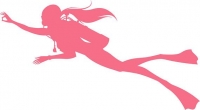 Join us for a days diving around Waiheke Island 
What's included?
2 boat dives with AWOL Charters, gourmet lunch, wine tasting, hire gear and great company!
The Plan
We will be meeting at Maraetai boat ramp, October Saturday 3rd, 8.30am departing at 9am 
Please bring all of your gear with you or give me a heads up if you require any, you will need to bring your highest dive cert card and sign the responsible divers code form.
For dive 1 we are planning to Dive Gannet Rock, Dive 2 a scallop dive or D'urvile rocks (Dive sites will be dependent on conditions) 
Kindly bring a casual/beach dress or something similar as after the dives we will be dropped off on the beach of Man o' War winery for lunch, we will need to walk in knee deep water to the shoreline (jeans would not be appropriate)
A shared gourmet lunch of Pizza, breads & cheese accompanied with 4 wine tasting samples will be provided (you may also want to bring your eftpos card if you wish to purchase any extras after the wine tasting ;) If you have any dietary requirements please let me know 
We should arrive back to Maraetai boat ramp by 5.30-6pm