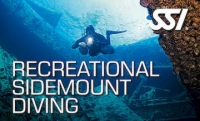 When 1 tank isn't enough
Having two tanks one on each of your sides while diving will give you redundancy, more air to breathe underwater which also means you can have more time underwater during your dives.
The benefits of Sidemount Diving compared to the classical recreational scuba gear are countless.
Just to name few of them:
No cylinders on your back (no pain).
Natural position underwater.
Natural perfect buoyancy.
Lighter scuba gear in the airplane (when we can)
Redundancy.

Those are just a few of the countless benefits of diving sidemount, especially if you are a cave diver or a wreck diver.
Why don't you see if its for you ?