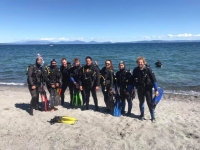 This globally-recognized certification program is the best way to begin your life-long adventure as a certified scuba diver.
Personalized training is combined with in-water practice sessions to ensure you have the skills and experience required to become truly comfortable underwater, certifying you to dive anywhere in the world down to 18mtr.

The course is made up of 3 sections, online theory that can be done at home in your own time before the course, a confined water pool session were you can become comfortable and practice skills being underwater and 4 open water dives were the fun really begins! learning new skills and problem solving techniques as well as seeing the beautiful marine life New Zealand has to offer.

The course is run over 3 days, Friday meet and greet, pool session 9am-4pm at Rotorua Aquatic center and Saturday, Sunday open water dives at Lake Rotoma 9am-4pm (site dependent on conditions)


Before you start your course.
You must fill out a medical questionnaire to check whether you are fit to dive.
You have to complete the theory course before the in-water training begins, this takes about 10 hours for the online theory.
You need to be able to swim 200 meters continuously.
You need to be able to float or tread water for 10 minutes.
A minimum age of 10 years applies.
Every student under 18 needs to have a parent or a guardian sign a consent form.
Students younger than 15 years of age will attain a Junior Open Water Scuba Diver certification which has some restrictions. (10 and 11 year olds can only dive with a dive professional, parent or guardian with a dive certification to a maximum of 12 metres).

We provide the scuba equipment (BCD, regulators, tank, weights and 7ml wet suit) we recommend you provide your own mask, fins and snorkel, if you don't have your own these items you can use our hire gear $50 for the duration of your course, however you will just need to give me a heads up on foot size.
We also offer exclusive discounted gear packages only available to our students, happy to talk about other options.