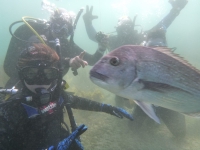 This globally-recognized certification program is the best way to get personalized training combined with in-water practice sessions to ensure you have the skills and experience required to become truly comfortable underwater, certifying you to dive anywhere in the world safely down to 12 meters, this course is aimed at 12yrs-16yr old
The course is made up of 3 sections, online theory that can be done at home in your own time before the course, a confined water pool session were you can become comfortable and practice skills being underwater and 4 open water dives were the fun really begins! learning new skills and problem solving techniques as well as seeing the beautiful marine life New Zealand has to offer.
The Practical is run over 3 consecutive days
You must be able to pass a medical and swim 200 meters non stop and 10 minutes treading water.
We provide the scuba equipment (BCD, regulators, tank, weights and 7ml wet suit) we recommend you provide your own mask, fins and snorkel.
Get in touch for details or register today, this course is filling fast so don't hesitate