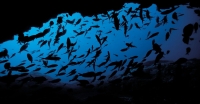 THIS COURSE IS NOW FULL
With the SSI Deep Diving course, you will venture into the depths and take on the challenge of deep diving to be able to dive down to 40 meters.
A lot of exciting dives are at depth, and without proper training and knowledge, you can be quickly at risk. Being affected by the narcosis or exceeding your no decompression limit due to the depth are just a few of the potential hazards.
During this Deep Diving course, you will learn to dive with confidence at depth and enjoy to go where not so many divers can go.
With the SSI Deep Diving specialty certification, you will have the ability to safely plan and conduct dives beyond 18 meters. The SSI Deep Diving certification is also a prerequisite for some advanced specialty courses, as well as to start technical diving.
Learn to plan and manage your way down with this two days scuba diving course where you will have three training dives.
The cost includes Accommodation, meals and scuba equipment.