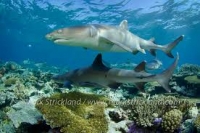 There is no other place in the world will you find 7 species of shark on one dive. See bull, white, silver and black tip reef, nurse, lemon and grey reef sharks as well as nearly 300 species of fish.
If that isn't enough, see 16+ foot tiger sharks patrolling the area!
Experience the adrenaline rush of a lifetime as countless sharks glide through the water in every direction amongst huge grouper and napoleon wrasse try to get in on the action. Other sites include large pinnacles, swim-throughs covered in soft corals, wrecks, macro sites and incredible walls.
Non divers $ 2896 
Divers $ 3496
Get in touch for more details!
Limited spaces so be quick